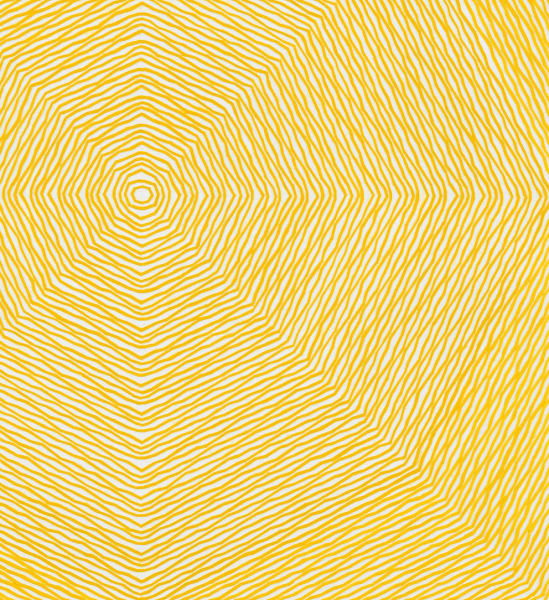 Aicon Contemporary is pleased to present First Light, a solo exhibition by Stockholm based artist Sonja Larsson. This being her first solo in the United States. Larsson's work pushes the viewer to question what can constitute the visual vocabulary of painting. In this collection of ten seminal pieces, Larsson mesmerizes with her delicate yet powerful thread-like-thin layers of paint that interlace to act at once as material and subject, creating a labyrinthian dynamic.
Grace Hartigan, a key figure of the New York abstract expressionists stated, "I want to distill my subject matter until I have its essence. Then the rawness must be resolved into form and unity." Larsson's canvases exude a love affair between formal unity and disunity, where the dynamic abstract form is meticulously controlled by geometry. She quite literally constructs the canvas through a unique and careful process of laying down and layering line after line of paint, bound in its space by very narrow tape. As the paint and canvas reveal and conceal one another in a playful game of hide and seek with tape playing the interlocutor, a dense optical network emerges. Like a theater director blocking a scene for the first time, or an architect drafting lines on a drawing, Larsson has a final picture in her mind, which reveals itself magically, at the end of the monthslong effort that goes into each work.
The movement in Larsson's paintings is a harmonious amalgamation of stillness and chaos, offering a sense of calm and serenity while simultaneously enticing viewers to lose their way in the intricate lines and vibrant colors. Larsson's work is affective in nature, line and color coalesce into formal richness that elicits sensation before cognition. The game of the material and subject is played as a means to capture the intangible. As viewers engage with her paintings, they are urged to listen to the images, to hear the frequencies that resonate within them and harmonize with their rhythm. Larsson's masterful interplay between the audio-visual dimensions of her work creates an experience that stimulates the aforementioned intangible.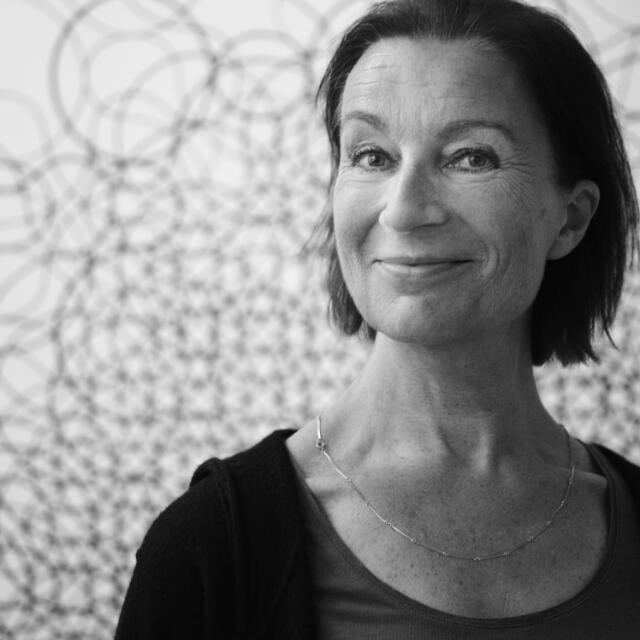 Sonja Larsson (b. 1955 in Olofström) graduated from the Royal Institute of Art in 1985. Her work has been presented in solo shows at The Royal Academy of Fine Arts, Enköpings konsthall, Sven-Harrys konstmuseum, Västerås Konstmuseum, Galerie Aronowitsch and Cecilia Hillström Gallery. Furthermore, Larsson has been engaged in several public commissions, e.g. Navet, Umeå, the Rinkeby Academy, Danderyd Hospital, The Royal Institute of Technology, and the Swedish Embassy in Santiago, Chile. She is represented in the collections of Moderna Museet, Public Art Agency Sweden, Stockholm Art Council, Lund University, Umeå University and Region Stockholm. Sonja Larsson had her first solo show at Galerie Aronowitsch in 1992. She has shown at Cecilia Hillström Gallery since 2014. Her work has also been presented at Art International, Istanbul, MARKET Art Fair, Stockholm, and viennacontemporary, Vienna. Larsson has been a member of the Royal Academy of Fine Arts since 2010.