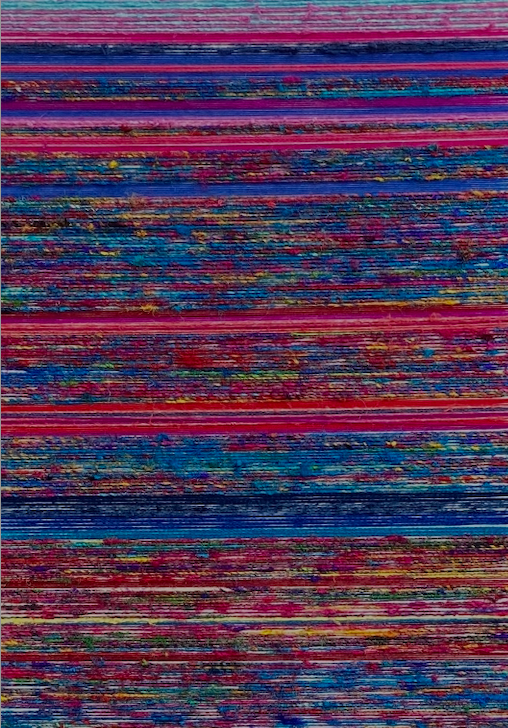 Aicon Contemporary is pleased to present Silence Visualized, a solo exhibition of works by New Delhi based artist Shobha Broota. The show curates work from across Broota's career, revealing the different personas of an artist and individual one canvas at a time. The richness of form, material and medium reflects versatility and dynamism as well as patience and persistence. This exhibition chronicles the sometimes overlooked artistic journey of one of India's greatest living abstractionists.
Broota has painted in various modes, including portraits of men and women, more abstracted human forms, before eventually moving into the realm of pure abstraction in works embodying different elements and forces of the natural and spiritual world. In recent years, her magnetism towards abstraction has mutated from paint form into textile works. "After I spend years on something, I feel the need to break away and do something new. Break the repetition. Then I spend years on the new thing" says Broota. Her lengthy practice, constructed with a sharp focus and pushed forward by perseverance has been a spiritual act of repetition, reconstruction and refinement. Every few years, one witnesses a shift in the form of Broota's spirituality which enhances previous pursuits and commences new ones. This cyclical nature of meditation, production and edification, resembling that of cosmic forces, is at the heart of Broota's art.
Broota's work generates a liaison between grand thematic narratives and intimate labor practices. The meditative affect of the expanse of paint, color and thread feels at once all encompassing yet when observed closely, tells a story of intricately crafted thread or color. As she dives into a canvas to find her own inner self, impassioned ideas of freedom are met with quiet virtue of discipline, poise, focus and clarity.
Broota's art creates at first a dissonance and then a dialogue between the senses; visual and auditory senses come into tension with cognition as affect and intellect intertwine in a web of feelings and thoughts.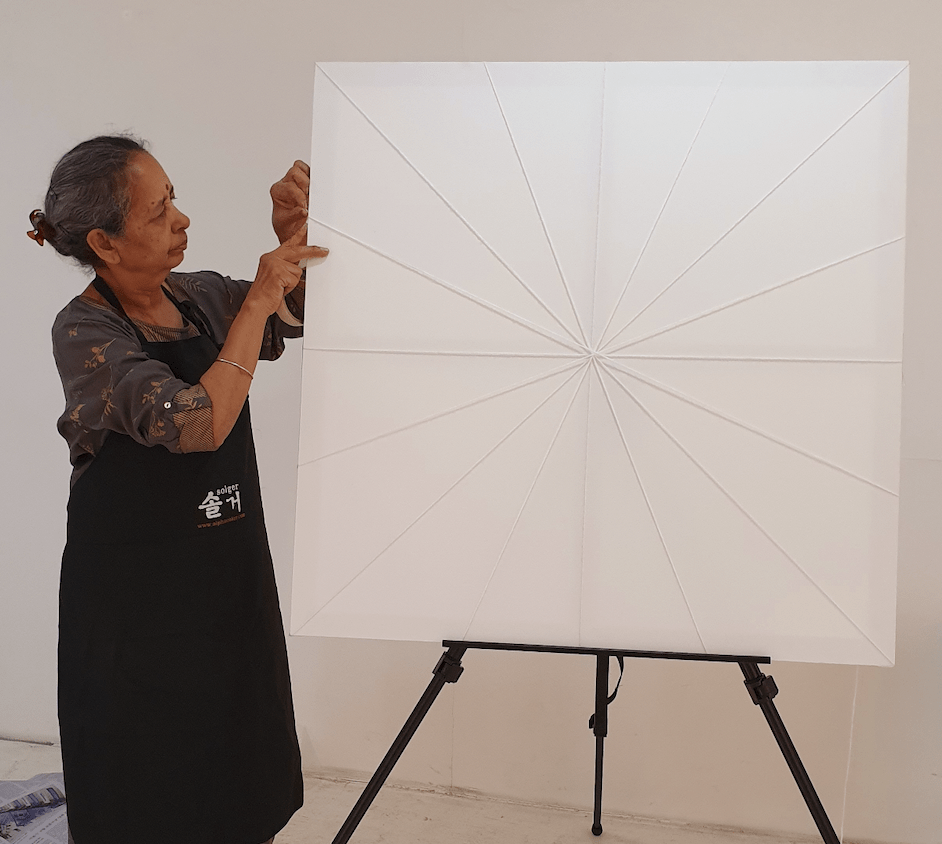 Born in Delhi in 1943, Broota earned her Master's Degree in Vocal Indian Classical in 1962 and her Diploma in Fine Arts, at the College of Art in New Delhi in 1964. She has been the recipient of awards from AIFACS and Sahitya Kala Parishad, New Delhi, an Art Educationist Award from NDMC, New Delhi, as well as scholarships and fellowships from the Ministry of Culture, India. She has held over 28 solo shows since 1965 and has been curating exhibitions since 2014. Among her in-depth solo exhibitions have been Resonance at Aicon Gallery, New York, Music of the Spheres and Song of the Divine in New Delhi, Looking Within at the Museum of Sacred Art, Belgium, Edge of Infinity at Indigo Blue Art, Singapore, and SNO 89, Contemporary Art Project' in Sydney. She has participated in various international museum and gallery shows in Tokyo, Frankfurt, Hamburg, Italy, Hungary, Denmark, Bulgaria, Yugoslavia, South Korea, the Netherlands, Australia, Poland, Mexico, Cuba, and in the United States (New York, Chicago, Palo Alto, and Los Angeles). She has participated in artist residencies in Kuala Lumpur, Perth, Fremantle and Guyana. Her work has been collected by the National Gallery of Modern Art, and the Kiran Nadar Museum of Art in India; the National Gallery of Malaysia, and by various private collectors, namely Chester & Davida Hervitz, MOSA Belgium and many others.