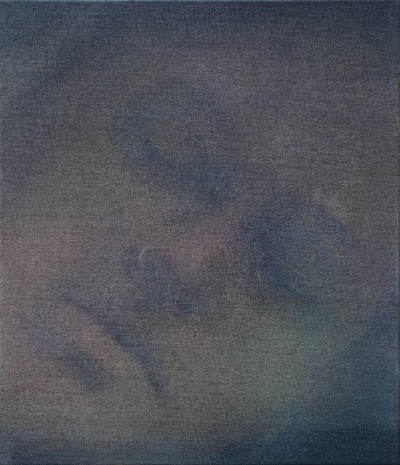 Sudipta Das (Indian, b. 1985) works in the medium of sculpture and installation using primarily the dakjee doll making technique to render figures that depict narratives of migrant and climate tragedy. The abundance of people and their material traces in a small space point towards depletion of life/materials.
Lindsey Lou Howard (American, b. 1997) is a ceramic sculptor whose work embraces themes of extravagance, excess and enjoyment. Through her work, she examines the political implications of consumption, pleasure, and addiction through depictions of decadent displays of food, indulgence, and addiction.
Melissa Joseph (American, b.1980) works with textiles and felting techniques to situate her work at the intersection of labor and gender. Her pieces in this show meditate on memories - personal and collective, through found objects and textile work.
Sangram Majumdar (Indian, b.1976) work intertwines disparate painting traditions and the aesthetic and symbolic relationship of light and color. His work is effective in nature and allows for narrative, memory, and sensory encounters. Through the stroke of the brush, Majumdar constructs and deconstructs perspective.
Ahsan Memon's (Pakistani, b.1989) oeuvre primarily consists of oil painted portraiture. His figures create an aura of quietness and when the viewer really starts to listen to the paintings, the reflective chaos can be heard. Juxtaposing the theme of the exhibit, Memon's paintings are not concerned with the material world rather depict an abundance of interiority and psychological depth.
Maheen Niazi (Pakistani, b. 1991) explores the intersections of religion and culture, and highlights points of fusion where both merge. Culture is seen as ever changing, whereas religion is often thought of as being firm in its code - yet - both flow into one another. She sees society steeped in misperceptions as religion is used to justify cultural practices.
Sanatan Saha (Indian, b.1975) tackles a palpable sense of tension in his renderings of the modern world. The pressures of living in fabricated realities in the contemporary time are increasing day by day; and so is the urge to seek 'a space for respite'. The dilemma and conflict of a common man surrounded by social discourses is a predominant concept displayed.
Alia Shawkat (American, b.1989) is an actress, writer, and painter. Shawkat's work subverts binaries such as : figurative/abstract, mind/body. Her paintings and drawings are an exploration of bodies that reflect on the interior world positioned against an exterior world that is humorous, sharp, and sometimes dark.
Pedro Troncoso (Dominican, b.1996) creates dreamscapes through larger than life figures. The cool blue and purple color schemes construct a sense of enigma while visualizing the dynamic between human and cyborgian subjects, creating a dialectic of consumption. The paintings depict them both consuming/ ingesting one another. The larger than life figures dominate, they ask the viewer to feel, see, think and importantly imagine with no limit, on a large scale.